PICK UP POINT – Pick up from your Mumbai hotel / Airport
DESTINATION : Nasik
ITNERARY :Mumbai > Nasik > Mumbai
DEPARTURE TIME : 7 am
DURATION : 14 hours (approx.)
DROP OFF DETAIL : Returns to original departure point at approximately 9 pm
Tour Overview
Trip to Nasik Vineyards
Pick up from your hotel in Mumbai and drive towards Nasik for visiting famous Vineyards of Nasik. Nasik is 180 km from Mumbai by road and takes almost 4 hours to reach here.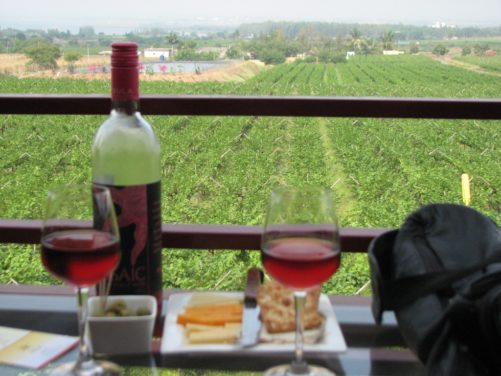 Arrive Nasik.
Arrives at the famous Vineyards of Nasik. Upon arrival, we start touring through the famous vineyards and wineries of Nasik such as Sula Vineyards, York Winery and Valle de Vin/Zampa Wines.
Nasik Vineyards and Winery Tour
Proceed to Sula Vineyard for winery visit and wine tasting.This Nasik wine tour will take you through the most popular Nasik Vineyards along with opportunities to taste some of the famous Indian wines. Though there are almost 50 wineries in and around Nasik.Nasik is paradise for Indian wine lovers, often referred as the India is very own Napa Valley. Nasik is home to some of the finest India wines. You will also get an opportunity to experience or taste some of the finest Indian labels during Nasik wine tour. The guide will unfold the mysteries surrounding wine making and tells the first hand the Indian wine growth story. You will be taken through the vineyards, where guide will elaborate precisely the process of wine making and give you interesting inputs about wine tasting.You can sample a variety of freshly pressed wines straight off the winepress and some just recently bottled. One can also purchase the wines at good discounts from the owner. Nasik Vineyards and winery day tour is all about, to see the main wine producing regions of India, learn about different styles and process of wine making, taste wines while enjoying the wine tour through vineyards. First you will be guided to the Sula Vineyards, which is the most popular amongst all.
After finishing the visit of Sula vineyards, proceed to York Winery for learning and tasting wines.
YORK WINERY York winery is located close to the Sula Winery. York winery was first conceived in 2004 and up and running by 2008, spread over seven acres of vineyards overlooking Gangapur Dam. This friendly, young family-owned winery focuses on producing fruity and dry, rather than sweet, wines. York winery has a decorated sizable tasting room with offering entire range of wines. You will be going through the vineyard during the wine tour of York winery and guide will explain the process of winemaking. The winery has a superb gold medal Reserve Shiraz, aged in oak, to its name.Opening Time: Noon until 10.00 p.m., seven days a week.Wines: Sauvignon blanc, chenin blanc, rose, shiraz, cabernet sauvignon.
Valle de Vin for visit and Zampa Winetasting
VALLE DE VIN / ZAMPA WINE: If time permits, visit the the Valle de Vin lies in Sanjegaon district between Igatpuri and Nasik. Winery's premium Zampa wine has been recognized as one of the best in India. The guide will take you through the vineyards, where grap plantation is done on the slop of a hill with waterfalls and greenery in the background. The lounge, gardens and internal roads were beautifully carved and maintained. The wine estate has a great ambience with modern setting, with beautiful courtyards and patios. It is relaxing and very pleasing to eyes.Wines: Chenin blanc, sauvignon blanc, cabernet sauvignon, shiraz, and sparkling rose and brut.
After finishing the Vineyards and Winery tour of Nasik. Drive back to Mumbai.