The Oberoi Hotels & Resorts - EXOTIC VACATIONS
From the magical romance of the Taj Mahal to the vibrant hues of Rajasthan; from the majestic tigers of Ranthambhore to the tranquil serenity of the Himalayas. India promises you memories of a lifetime. Oberoi Hotels & Resorts offers a window into vibrant cultures, historic monuments and extraordinary landscapes. Infused with a sense of wonder, each unique Oberoi Hotel offers travellers an authentic and unique perspective of every city. Savour exquisite regional cuisine, explore historic landmarks and absorb the rich history as you embark on a journey of discovery.
Tour Overview
THE OBEROI NEW DELHI
The Oberoi, New Delhi is an iconic luxury hotel in New Delhi. It is located in the centre of India's cosmopolitan capital city. It is 30 minutes from the Domestic Airport and 45 minutes from the International Airport.The hotel has 220 rooms and suites inspired by Lutyens' New Delhi design, with authentic furnishings and handpicked artwork. All feature large picture windows which frame unmatched views of Delhi Golf Course on one side and the UNESCO World Heritage site of Humayun's Tomb on the other. All accommodation radiates luxury. From the rich polished teakwood floors to the spacious walk-in closets, magnificent Italian marble bathrooms and oak wood desks.
THE OBEROI AMARVILAS
The Oberoi Amarvilas, Agra enjoys an unrivalled position amongst luxury hotels in Agra, being located just 600 metres from the iconic Taj Mahal. Each of our rooms affords uninterrupted views of this ancient monument to love, while elements of the layout and design pay homage to its Mughal splendour.Our hotel is approached along a sweeping driveway, verdant with native trees and lit by flaming torches. Just inside, a Mughal style quadrant is ornamented with cascading fountains and framed by an arched passageway and gold leaf frescoes.By day, guests can travel in our private golf buggies to the Taj Mahal. At night, they can savour a candlelit dinner beside its soft silhouette. We offer a range of specially curated Oberoi Experiences designed specifically for our luxury resort in Agra and this majestic Mughal city.We offer all guests complimentary access to high speed Internet for up to four devices. Guests who book in advance and directly with us can also enjoy special rates, exclusive privileges and hotel offers. Relax with a loved one on a customised holiday or honeymoon. Enjoy a quick break and rejuvenate with a couples' therapy in a private spa suite with Taj Mahal views.
THE OBEROI RAJVILAS
The Oberoi Rajvilas is remarkable amongst hotels in Jaipur; a royal resort set in a breathtaking thirty two acre oasis of beautiful landscaped gardens, filled with beautiful trees and exotic birdlife.Guests looking for a luxury dining restaurant in Jaipur can choose between our all day international fine dining space or seasonal Indian speciality restaurant. Both offer indoor seating, al fresco dining and live, traditional folk music to accompany the dining experience. Our comfortable library bar is a wonderful setting to enjoy an aperitif, a nightcap, a game of chess or an interactive history session.The Oberoi Spa in Jaipur, located in a restored 18th century haveli (mansion), offers signature treatments to help guests relax, refresh and rejuvenate. Our Oberoi Experiences are a unique bouquet of authentic, interactive Rajasthani art, culture and culinary demonstrations, for guests to enjoy in the comfort and luxury of The Oberoi Rajvilas, Jaipur.We offer all guests complimentary access to high speed Internet for up to four devices. Guests who book in advance and directly with us can also enjoy special rates, exclusive privileges and hotel offers.Relax with a loved one on a specially curated holiday or honeymoon. Stay with Oberoi Hotels & Resorts in Jaipur for an unforgettable experience.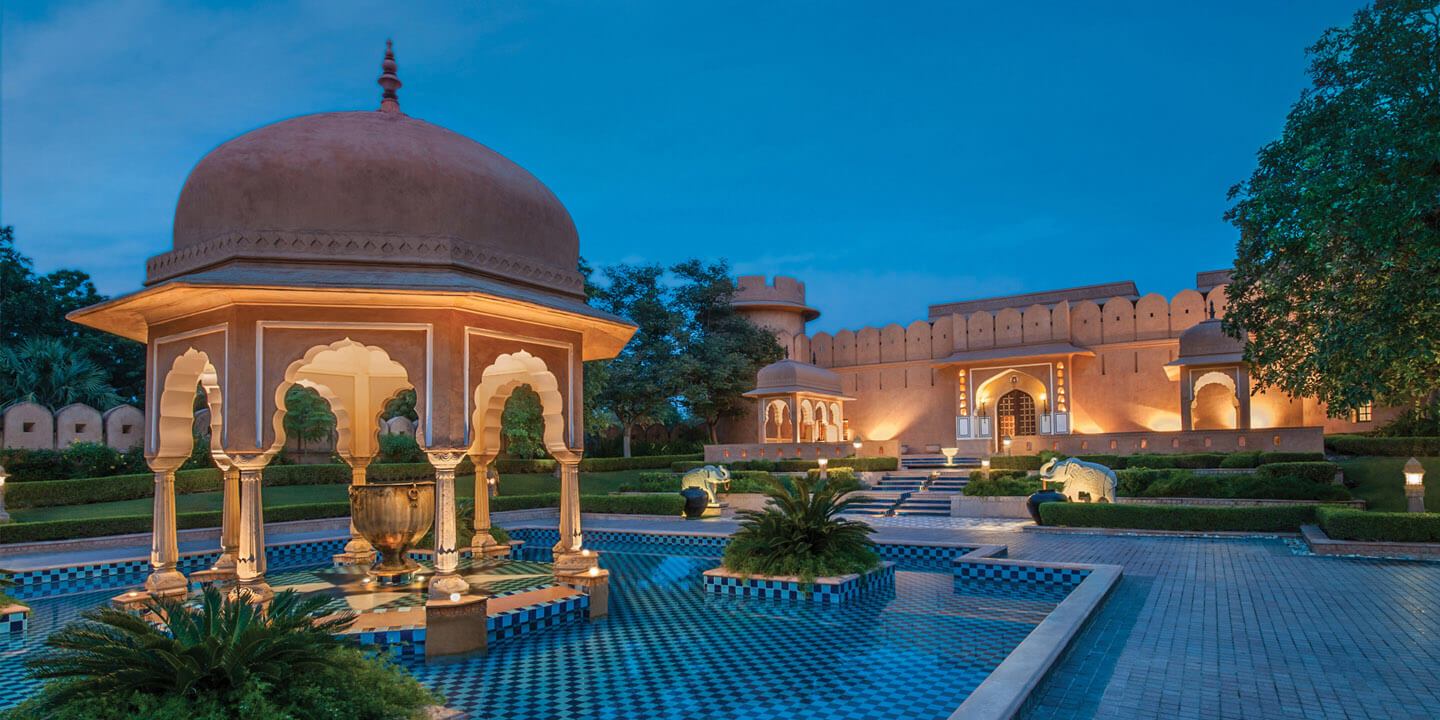 THE OBEROI UDAIVILAS
Located on the bank of Lake Pichola, The Oberoi Udaivilas is unique amongst luxury hotels in Udaipur; a fifty acre property that once belonged to the Maharana of Mewar, all accommodation and dining spaces offer spectacular views across the hotel's verdant gardens and sparkling Lake Pichola.Our luxury hotel in Udaipur has an intricate layout of interconnecting domes and corridors that reflects the layout of Udaipur itself; whose seven lakes are linked by canals. These domes and walkways are flooded with sunlight, caressed by balmy breezes and offer magnificent views of the lake and gardens.Guests looking for a luxury dining restaurant in Udaipur will find their appetites more than satisfied by the range of fine international and Indian cuisines served at our indoor and al fresco restaurants. The Bar is a wonderful setting to relax with an aperitif and enjoy lake and garden views. We also have a number of bespoke private dining venues that can host between two and seventy guests, for a romantic dinner or a lavish celebration.The Oberoi Spa in Udaipur offers Eastern, Western and signature Oberoi treatments, designed to help our guests relax, refresh and rejuvenate during their time with us. Our guests can also enjoy morning yoga sessions and swimming in our temperature controlled, outdoor pools.